WWDC
What's new in M2 MacBooks? ft. WWDC'22
This year's WWDC includes significant upgrades to hardware (chipset) and software (iOS 16, macOS Ventura).
Apple introduced their next generation of Apple Silicon M2 which they are shipping into their newly redesigned MacBook Air and the previous 13-inch MacBook Pro. So without further ado, let's dive into the specs.
Let's check out how the new chipset differs from the previous generation.

M1 Chip
M2 Chip
Starting Price
999 USD (MacBook Air 2020)
1199 USD (MacBook Air 2022)
CPU Cores
7-8
8
GPU Cores
8
8-10
Neural Engine
16-core
16-core
Transistors
16 billion
20 billion
Memory bandwidth
68 GB/s
100 GB/s
Screen Size
13.3 inch
13.6 inch
Display
Retina
Liquid Retina
Memory (RAM)
8/16 GB
8/16/24 GB
Brightness
400 nits
500 nits
Pricing
Apple's M2 comes with 13.6-inch MacBook Air and MacBook Pro which is expected in July 2022. The new redesigned MacBook Air M2 comes in four colors and starts at $1199/£1,249/₹119900 for 256GB storage.
CPU
Apple improves its next-generation M2 chip with 20 billion transistors, nearly 25% more than the original M1 chip. Comparing M2 to previous versions of M1 Pro (33.7 billion transistors) and M1 Max (57 billion transistors), it is considerably smaller.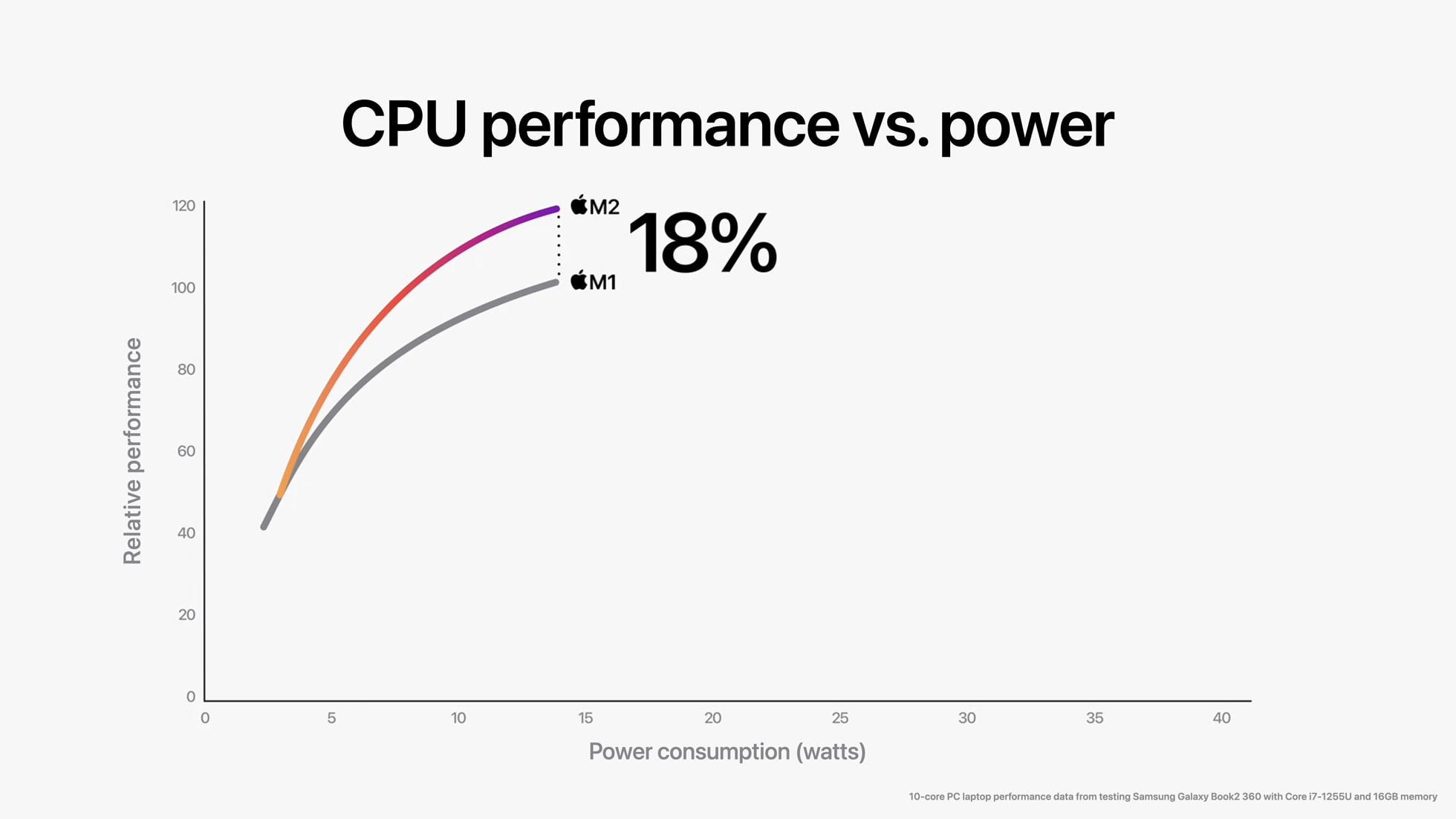 Just like M1, M2 is manufactured on a 5-nanometer process. But Apple says M2 is built on second-generation 5-nanometer technology which delivers up to 18% more performance (compared to M1) on multi-threaded operations like creating documents and presentations or more workloads like working with Xcode as well.
GPU
M1 chips are equipped with 8 cores to handle graphics tasks. M2 is available in two different versions: 8-core and 10-core GPU. With a 10-core GPU, M2 offers some advanced graphics performance which will help in editing 4k and 8k videos swiftly.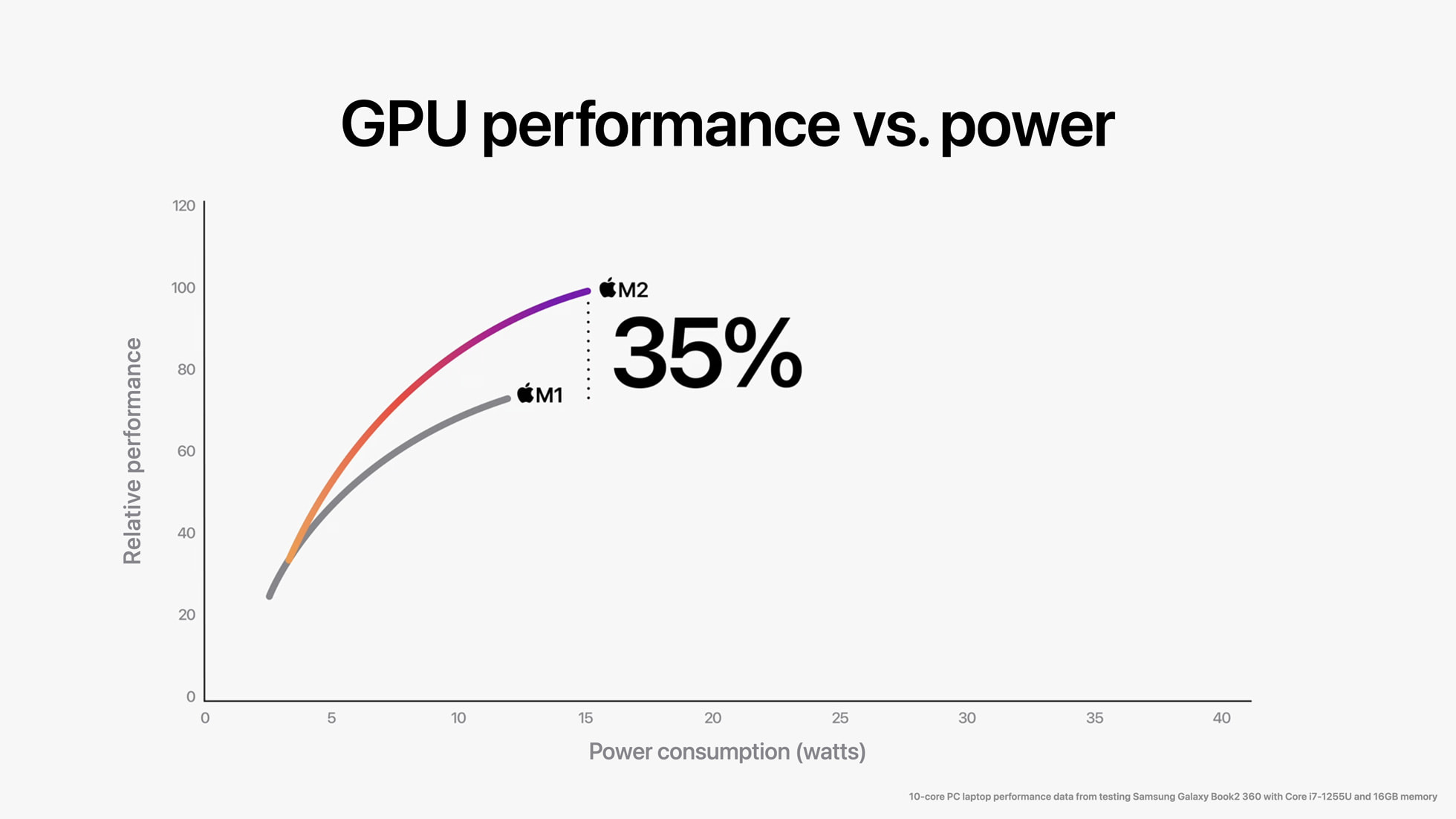 Apple says M2's GPU is more advanced, with up to 25% better performance than M1's GPU at the same power level. It also has up to 35% better performance at max power.
Quick Rundown
Improvements with M2 Chip
Phenomenal battery life improvements with M2, now MacBook pro 13 inch, provides up to 20 hours of video playback time and MacBook Air provides up to 18 hours of video playback time.
The M2 chip enables high-bandwidth video decoding for media engines that are capable of displaying 8K video.
MacBook Air and Pro 2022 will be equipped with up to 24GB of RAM thanks to the M2 chip.
MacBook Air 2022 with M2
This MacBook comes equipped with a 1080p FaceTime camera.
MacBook Air features a quad-speaker setup.
It supports maximum storage of 2TB.
This MacBook is available in these four colors: Space Gray, Silver, Starlight, and Midnight.
It's completely fanless and stays silent no matter how intense the task.
MacBook Air is equipped with a 52.6-watt-hour lithium-polymer battery which gives it the ability to play video for up to 18 hrs.
The new display provides 500 nits of brightness level, which gives us pretty good visuals even in sunlight.
MacBook Air 2022 vs MacBook Air 2020 (Design comparison)
This year Apple did that long due redesigning its MacBook Air, and here is what's changed in its dimension and screen.
| | MacBook Air 2020/M1 | MacBook Air 2022/M2 |
| --- | --- | --- |
| Dimensions (inches) | 11.97 x 8.36 x 0.16-0.63 | 11.97 x 8.46 x 0.44 |
| Weight (pounds) | 2.8 | 2.7 |
| Display | 13.3-inch Retina | 13.6-inch Liquid Retina |
| Resolution | 2,560 x 1,600 | 2,560 x 1,664 |
| Brightness | 400 nits | 500 nits |
---
We at Swift Anytime have the mission to make learn iOS development the way everyone enjoys it. You can check out our articles on SwiftUI, Swift, iOS Interview Questions and get started with your iOS journey today.
Eat. Sleep. Swift Anytime. Repeat.